Nakoruru Adventure Game


Nakoruru ~The gift from that person~ (Ano hito kara no okurimono)
Well, this is not really a SS game or a game made by SNK. But close enough, it is a Nakoruru adventure game made by Inter-lets, and some SNK staff. Obviously, Nakoruru and Rimururu are in the game, but there is also a new character. And of course the voice actresses are the usual lovely Ikoma Harumi as Nakoruru, and Kamitani Keiko as Rimururu.

The background story of Nakoruru will be roughly based on SS1 and SS2, it will be about the village life of Nakoruru when she is younger. There is also a new character, name unknown, but I hope there will be more information about her soon, and I'll try to update this news page when I get more information about the game.

Okay, the bad news is the game is in Japanese, and it's a Japanese Windows games, so it's quite impossible for most of you to play the game. And I think the game will never get translated anyways, sorry for being pessimistic.(So, why the heck am I talking about this game? Hehe well, because I have to talk about all SS related stuff)

But the not so bad news is, on Inter-lets website, they wrote this:


"To Nakoruru fans Overseas---We're very sorry but this page is made in Japanese only. However,we are willing to deliver this software to all Nakoruru lovers. We are yet to decide how, but please forward your words (opinions/request etc.) to us. Please contact info@inter-lets.org. (Write in English or Japanese please. )"

Actually, I didn't quite understand what they meant by 'deliver'. Did they actually mean it literally, like how they would 'send' the game to overseas? Or were they implying that how they would publish it in countries other than Japan. Anyways, all we know is that they're kind enough to let us 'Nakoruru fans overseas' people send them emails. Yeah, that's right, everyone go email them and bug them to have the game translated or something!!!

Anyways, the game will be on 2 CD-ROM, and on sale in June 2001 in Japan. And here are the system requirements for the game:
System
Requirements
OS
Japanese Windows
CPU
Pentium II 233MHZ Minumum
Pentium II 300MHZ Recommended
Memory
64MB
CD-ROM
8X
VRAM
4MB
Sound
Standard windows soundcard
Others
Direct X compatible video cards
Mouse


The Artwork is done by Kita Senri(SS64 series, SS Warriors Rage, and so on). Looks nice, eh?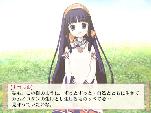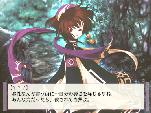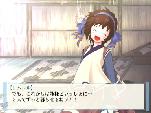 Translation for the second image:
"Before I say thanks......I have to say that I'm ashamed of my own weakness. With only this kind of strength, getting killed by someone is inevitable" (okay I know it's badly translated)
All images and information are copyrights Inter-lets, SNK.
"Samurai Shodown Forever" is a non-profit fan site. Samurai Shodown, Samurai Showdown, Samurai Spirits are Copyrights of SNK. Most of the images here are taken from SNK homepage. No part of this webpage may be reproduced in any form or by any means, without permission from C.K. Gan. This page is best view with I.E. 5 or Netscape 4 at 800*600